The Sargento Family is Proud to Partner with Habitat for Humanity on Our 32nd Home!
Bucks Performance on the Court Helps Build a Home
Twenty-nine years ago, Lou Gentine made a commitment to Habitat for Humanity for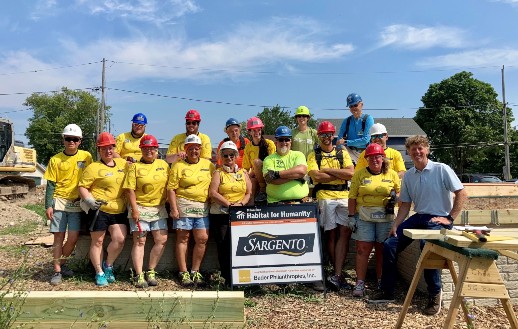 Sargento to become its first corporate sponsor. His goal was to lead the way and encourage other local businesses to step up and help those in need in our communities, while upholding his father's belief in giving back.
"Lou believed that by providing basic needs like food, shelter and education we can help break the cycle of poverty and really help families thrive," said Portia Young, Director of Corporate Public Relations. "And this important work ties directly into our values of Community Outreach and Humor and Fun."
This week we continue that vision, as a team of Sargento Family members began construction on our 32nd Habitat Home. Armed with cheesy shirts, lots of water and positive attitudes, the volunteer team jumped in with gusto to get this house built.
"It's always wonderful to partner with Sargento on a build," said Jake Brandt, Marketing and Communication Director for Habit for Humanity in Milwaukee. "Your commitment is incredible! We of course appreciate the corporate sponsorship, but the volunteers that take the time to drive down and work on the house each day are amazing. Plus, having Louie come down and help – you can see the family culture Sargento is known for. And the cheese snacks packed in with the waters are pretty great too!"
This year's volunteer pool brought together veteran builders and first-time volunteers from all parts of the organization – though just 30 minutes into the first day, everyone looked like a pro.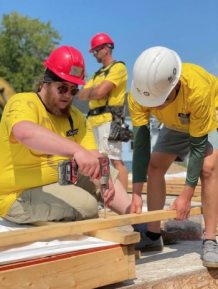 Cody Wilterdink, Operational Quality Specialist explained, "The volunteer leads from Habitat do a great job of teaching as we go. They make sure we know what to do so we can get the job done." This is Cody's first year volunteering with Habitat at Sargento, but he was happy to share that volunteering in general is a passion for him. "I have been a part of other nonprofits in years past, so when this opportunity came up, I knew I wanted to get involved."
You could see the passion and incredible carpentry skills from some more veteran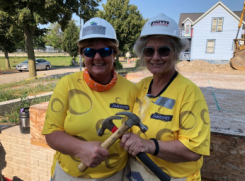 volunteers like Bill Ahrendt, Russ Schutte and Lila Struebing. Bill said, "This is only my second year here, but building was just something I did as a kid. Growing up I had the interest and that just continues today."
Lila spent her morning building the front deck of the house and shared she is using her talents and spare time to benefit her own family by making updates on their home and outbuildings. Russ on the other hand, had 20 years of professional construction experience under his belt before moving into food industry. Watching these folks swing a hammer – it is clear they are talented builders!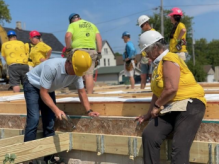 Having the Sargento Family volunteer support paired with the Tip-off For Homes campaign certainly makes for a winning combination. "This year we donated $500 for every tip-off the Bucks one during the regular season. Then since they were doing so well in the playoffs, we bumped that up to $1,000 per tip-off won," said Louie Gentine. "With the Bucks going all the way and winning the NBA finals, we are proud to have donated $44,000 to Habitat for Humanity in Milwaukee."
Check out the great coverage Tipoff for Homes received following the Bucks Championship Run here.
"There is just something about helping to create a home. It's the front door for me –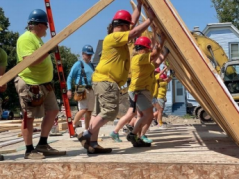 something is really symbolic about giving someone that door that you know their friends and family are gonna walk through each day as they make this house into a home," said Karen Lepisto, VP of Human Resources and Community Relations. "Being a part of this experience is just really special."
At the end of the day the theme always comes back to Community. We bring people from all over the company together – building new relationships, making new friends and learning from one another. We work hard together to help build a forever home for a first-time homeowner in a community that is working to provide a better life for families and the neighborhood. We are so fortunate to have the opportunity to make a difference together.
Andy Feustel, Process Technician in Kiel said it best: "Working at Sargento is great, there is no need to be grumpy and when you get to do things like this, it's a good day."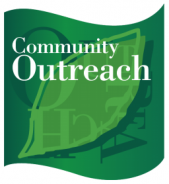 PRIDE
Check back for updates on the build soon!