Sargento pilots a program partnering with the Family Resource Center of Sheboygan County to help Lucila Rivera-Flores learn English at work
Community Outreach Spotlight: Breaking Barriers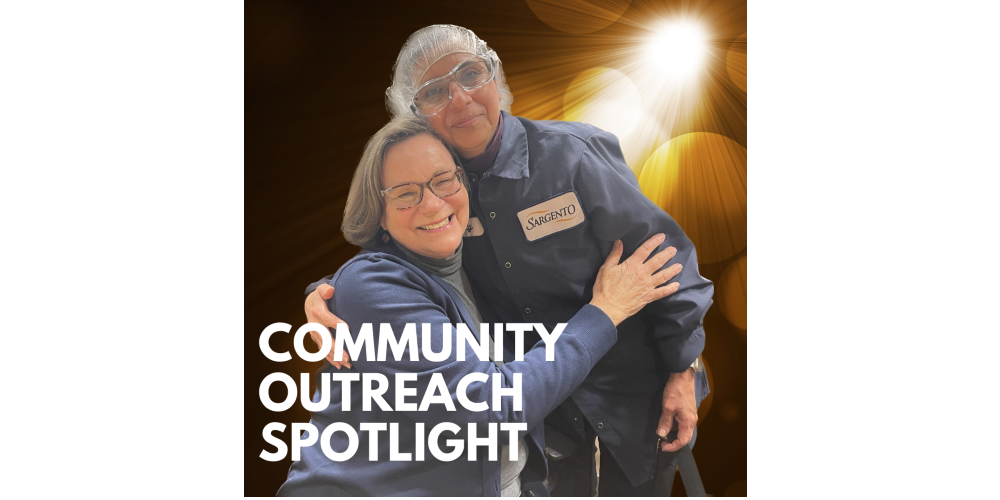 The ability to communicate and make sense of the world around us is fundamental. It's second nature for humans to match objects and experiences with words.
"We take for granted that everyone who comes through the doors knows English and that we can train them in 2 weeks. For some, it's not like that," said Jeff Tuschel, Sargento production supervisor in Kiel.
It was not like that for Lucila "Lucy" Rivera-Flores who moved to Wisconsin from Mexico. She followed her husband who had been working in the state for 5 years.
"When I first came to the United States, I was very afraid that the language barrier would be something that was insurmountable. My husband would help me translate, but this remained my biggest challenge. I'm very happy that the Family Resource Center exists," said Lucy.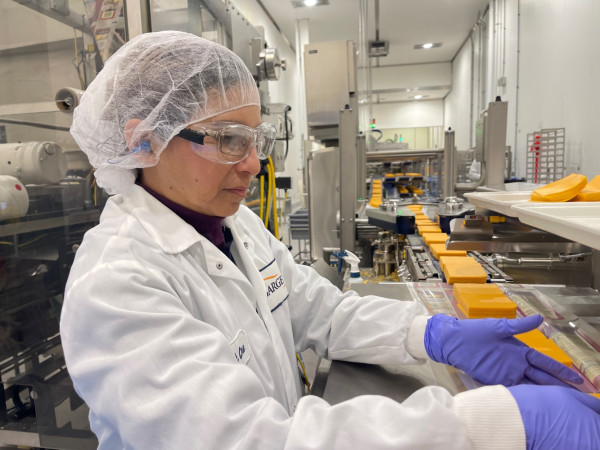 The Sargento facility in Kiel is piloting a program in partnership with the Family Resource Center of Sheboygan County. The non-profit focuses on adult literacy and supports several 'parents as teachers' programs. The program in Kiel was recently designed to meet the growing needs of the local business community.
"The potential of this program is really limitless given the labor needs in the Sheboygan County area," said Vicky Hildebrandt, one of the volunteer tutors. "The immigrants and even refugees coming into our community want to be here and they want to work."
Vicky tutors Lucy on-site at Kiel to help her learn English with a customized curriculum specific to our training at Sargento. Jeff Tuschel and Employee Experience Manager Sara Mitchell worked closely with Vicky to design the lesson plan.
"Jeff and Sara shared with me the sanitation modules and I worked with Lucy to make sure she knows the terms and the vocabulary," she said.
"Working at Sargento is the best job that I've ever had. When I first came to the U.S. the first job, I had was cleaning hotels. At one point, I was working in the mornings cleaning hotels and in the evenings, I worked at a restaurant. This experience was a complete 180 from the experience that I'm having now. This is a beautiful experience! I've learned a lot and I have a lot more to learn, but I am extremely grateful to work at Sargento," said Lucy.
It's been 9 months and already, the barriers that Lucy once encountered and perceived are coming down.
"I've learned how to communicate better with my coworkers, not just language but also human communication and the right things to say. I'm in a state of continuous learning and constantly strive to get better," she said. "In Mexico, there's the perception that at a certain age, it's too late to do certain things. So, you tend to lose motivation to strive to bigger and better things. It's not like that here in the United States. You can strive for anything if you don't put limitations on yourself."
"She has so much determination, more than I've seen in a while from an individual. She had a good work ethic right from the start and as she gained more confidence it got even stronger," said Jeff. "To see Lucy's progression over the past 9 months has been a lot of fun. She grew and the team grew with her. They included her to make her feel like part of 2nd Shift Slice."
The Family Resource Center is a United Way of Sheboygan County agency and is one of the many non-profits the Sargento Family supports during our annual Living Your Giving campaign.
"It's changed me for the better. I'm much happier now and I'm extremely proud of myself and what I've been able to accomplish," said Lucy. "I've always asked God to light my path and He never lets me down. Vicky, Sara and all my coworkers are fantastic human beings. They take good care of me, and we have great relationships."
"This will certainly help other companies who may have a language barrier. The times have definitely changed to where including everybody is important," said Jeff.
"Sargento really cares about employees on an individual level, and we do what we can to help them succeed," said Sara Mitchell. "In order to remain an employer with a great reputation, why wouldn't give this opportunity to anyone who wants to learn?"
Besides being promoted to Production Sanitation Utility, learning a new language, and a year as a full-time member of the Sargento Family, Lucy takes the most pride in what she has shown her children.
"I've given my 6 children an example and they've been able to witness that. Working at Sargento has been a tremendous blessing for me."