The Milwaukee Habitat for Humanity house the Sargento Family built last summer is now Sophia's 'Forever Home.'
Feel Good Friday: Home Sweet Home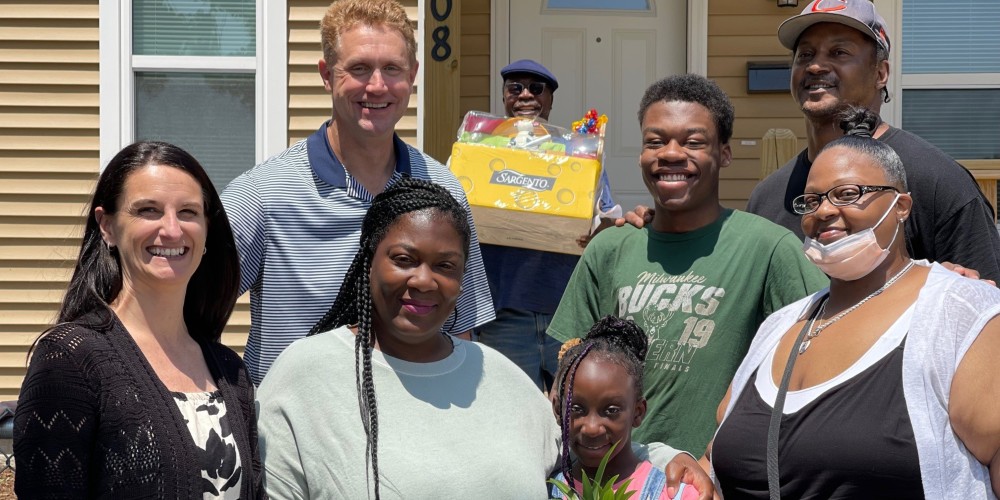 On the steps of her new home, surrounded by her family, Sophia cried tears of joy.
"It was a lot of hard work. I'm just so grateful," she said.
After a lifetime of renting, this moment was made possible thanks to Sophia's commitment to the Habitat for Humanity program as well as the commitment of the Sargento Family.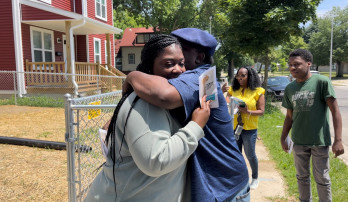 "I was underwhelmed a few days ago because we were busy packing and moving. And when we moved in, it all just hit me," she said wiping her eyes. Her father then placed his arms around her for support.
The work we do at Sargento enables us to share with our community. For 30 years, we have partnered with Milwaukee Habitat for Humanity to increase affordable housing and transform lives. Sophia and her children now have a safe place to live and a place to call home.
"I have a son with health issues," Sophia said. "In older homes, you can have mold and by building a new home, I don't have to worry about his breathing. This will be someplace he can thrive in."
Every home that is completed by Habitat for Humanity is dedicated shortly after the family moves in. Wednesday was Sophia's day and the sun shined almost as bright as her smile.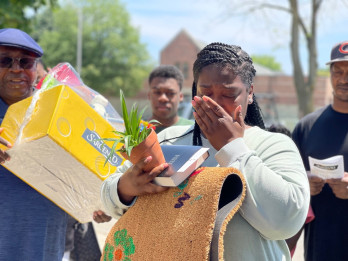 "This has been a long-time journey and a dream that she has have for many years and today we're breaking the cycle of a lifetime of renting," said Brian Sonderman, Executive Director of Milwaukee Habitat. "This is a tremendous accomplishment and that's one of the reasons why we gather for a home dedication, to recognize Sophia's hard work and dedication to becoming a homeowner."
Every Habitat for Humanity homeowner must put in hundreds of hours a sweat equity – actually building their home alongside volunteers like those from the Sargento Family. They must also be a first-time home buyer and take financial literacy education and credit counseling.
VP – Human Resources and Community Relations Karen Lepisto led the litany for those gathered to celebrate Sophia.
"…With the joy in the door which opens to those who knock with friends to share our provisions, we dedicate this home."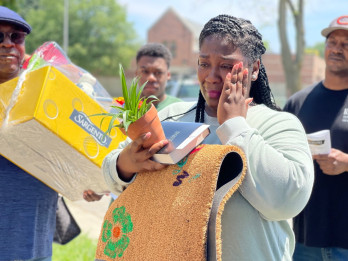 Volunteers and staff who worked closely with Sophia showered her with gifts: a houseplant, a laundry basket filled with cleaning supplies, two Palermo's pizzas, and a hand-painted welcome mat. Of course, Sargento provided the gift of cheese in a fun gift box created by the loving hands of Mary Thede in the Plymouth Company Store. It brought smiles to many faces.
"On behalf of the 2,200+ members of the Sargento Family, we'd like to welcome you to your new home," said Portia Young, Director – Corporate Public Relations. "We hope that you fill it with joy and laughter and have many happy holidays, birthdays, family dinners, story time, bedtime…"
"…Barbecues!" Sophia's father interjected, adding to the list.
It was that type of afternoon with many spontaneous forms of jubilee.
The ceremony ended where it began - on the steps of Sophia's home as her son straightened the corners of the gifted welcome mat on the threshold of the front door.
Home sweet home.