Sargento Employs High School Students to Meet Consumer Demand
They may be from rival schools, but high school students are learning what it means to be part of a team.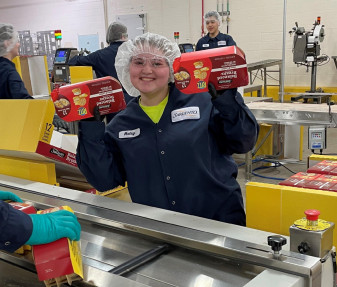 Working together on a production line packing club product, the seven students have formed friendships and found enjoyment in being part of the Sargento Family.
"I like the energy here," said Haley Byrge, a Chilton High School student. "Everyone is so upbeat."
The students, mostly from Brillion and Chilton high schools, work Monday through Thursday 5 to 9, putting in 16 hours a week. They rotate through positions on a production line that takes Sargento Balanced Breaks Cheese & Crackers® product and creates customer orders for club pack customers, such as Costco or Sam's Club.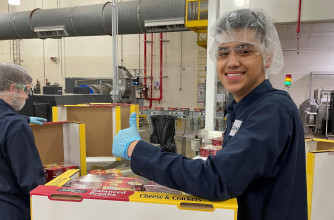 "I've been really impressed with them. Their attendance is great, and they work really hard," said Process Tech Josh Gosz. "It's also cool that they get to know one another, because they really get along great."
Members of the team have formed fast friendships over common interests, despite being from rival schools. In March, one of the team, Chase Niemi from Chilton High School, even brought in pizza for the whole group to celebrate his birthday.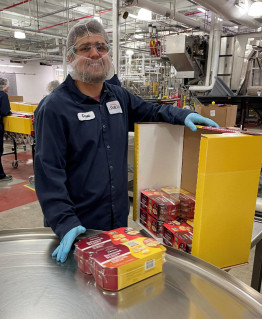 "I talk to everyone, but from the beginning me and Chase really connected," Cesar Hinojosa Bautista, from Brillion High School, said.
Cesar found out about the position from his mother, who also works at Sargento. He said he likes the pace of the job and that he can talk to the other students while they work. He also likes that it's a cool work environment out of the sun.
"A lot of my classmates work at fast food or landscaping in the summer," he said. "I like it here because you are always moving — and it's better than getting sunburned working landscaping."
Cesar said he plans to save money for college while working at Sargento and wants to pursue a career in computer programming or cybersecurity.
Haley Byrge said she plans on saving for college while working here, too. Her mother, who works third shift, encouraged Haley to apply and told her of the great benefits Sargento offers.
"I always wanted to get into Sargento for the benefits like tuition reimbursement for college," Hayley said.
The program began earlier this year when Operations and Human Resources explored opportunities for staffing pack areas for club production lines.
"The students are hard workers and have really impressed us," said Plant Manager Tedd Guttmann. "Some have even expressed interest in transitioning into full time positions after high school, so it's providing a pipeline of talent who already understand our production process and the Sargento culture."
Due to the success of the program, additional high school positions will be posted on the Sargento careers site in the near future.