Eighteen truckloads of Sargento cheese sticks soon will help feed 1.3 million families in need across Wisconsin and the nation.
Sargento Foods Donates $2 million in Cheese to Help Food Banks Across the Country
Sargento announced the donation today supporting the Hunger Task Force, our long-standing partner in the fight against hunger in Wisconsin, and Feeding America, a national organization that helps to feed those in need.
In making the announcement, Louie said, "We are honored to be a vital part of our nation's food supply and will do everything we can to make sure families have food on the table and to support our community in a real way."
Producing the 15.8 million cheese sticks for families in need will also help keep our production lines running and the Sargento Family working. The boost in production will provide some additional stability in our labor planning right now as we face dramatic fluctuations in volume.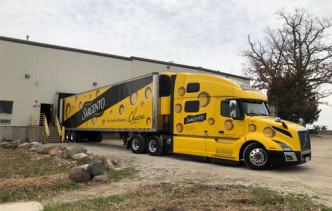 The total donation is 750,000 pounds of cheese, about $2 million. In addition to the cheese donation to food banks, Sargento will also make a monetary donation to Paul's Pantry in Green Bay that will be matched by the Green Bay Packers.
Sargento has been committed to supporting our communities for the past 66 years, serving families and our communities, providing food banks with monetary and cheese donations.
"Our long-standing belief in fighting hunger means more now than ever before," Louie said. "We are grateful to continue our long-term partnership with Hunger Task Force, addressing hunger in the state of Wisconsin. The donation to Feeding America will help us expand our efforts nationally to help feed families and do our part to address the growing issue of hunger and food insecurity during these challenging times.
"And I'm grateful to the entire Sargento Family, particularly our Operations Hourly employees. Your commitment and extra effort is recognized and appreciated. Working together, we are able to help feed families across our nation. Thank you, Sargento Family!"