Now in its 20th season, Touchdowns for Hunger™ will donate $2,000 for every touchdown; has raised more than $1.7 million
Packers, Donald Driver Team Up with Sargento to Celebrate 20 Years of Tackling Hunger in Wisconsin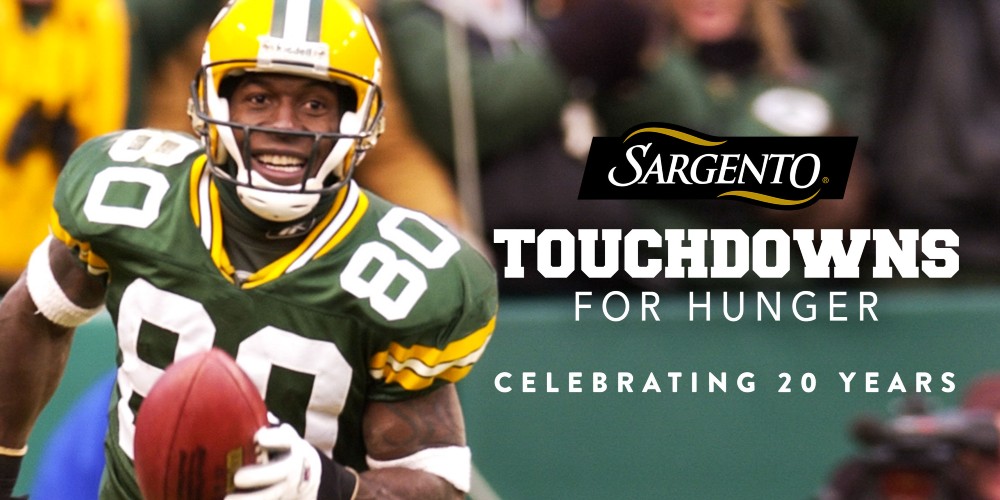 The Green Bay Packers and Sargento Foods Inc. are reaching a major milestone in their joint effort to fight hunger in Wisconsin this year, marking 20 years of partnership through the Sargento Touchdowns for Hunger™ program.
Since 2002, when the program began, the Packers have scored 1,010 touchdowns in the regular season and postseason combined, and Sargento made a donation toward hunger relief in Wisconsin for every one of those touchdowns.
This season, the tradition continues. For every Packers touchdown scored during the regular season, Sargento will donate a total of $2,000 toward hunger relief. To celebrate 20 years, Packers alumnus Donald Driver will lend his voice and social media channels to support the cause. Driver is the Packers' all-time leading receiver with 10,137 receiving yards.
"The Packers are proud to join Sargento in recognizing 20 seasons of Touchdowns for Hunger this year," said Packers President/CEO Mark Murphy. "This incredible milestone exemplifies our shared dedication to our community and to those facing hunger in Wisconsin. We appreciate the opportunity to work on this impactful program alongside our valued partner, Sargento, and we look forward to celebrating more touchdowns and donations this season."
"As a family owned, real food company, we believe that no one should go hungry. The people who live in our community are key stakeholders of our company which is why we give back in many ways. Touchdowns for Hunger demonstrates our commitment to our neighbors and our values," said Louie Gentine, 3rd Generation CEO of Sargento Foods. "Teaming up with the Packers and Donald Driver, who embodies the very best of the Packers organization, is a great way to celebrate the impact Touchdowns for Hunger has made over 20 years."
Each donation made by Sargento will be shared by Hunger Task Force in Milwaukee and Paul's Pantry in Green Bay who are Wisconsin's anti-hunger leaders.
"On behalf of the thousands of families who have received Sargento products visiting local food pantries, I want to thank Lou, Louie and the entire Sargento employee family for their 20-year commitment to feeding people across Wisconsin," said Sherrie Tussler, Executive Director, Hunger Task Force. "Touchdowns for Hunger has been the most rewarding and fun ride in my career, and a difference maker in the legacy of Hunger Task Force. Go Pack Go!"
Since it began in 2002, Touchdowns for Hunger™ has raised more than $1.7 million to help tackle hunger in Wisconsin and has provided more than one million meals to help feed families in need.
About Sargento Foods Inc.:
With over 2,200 employees and net sales of $1.5 billion, Sargento Foods is a family-owned company that has been a leader in cheese for more than 65 years. Founded in 1953 in Plymouth, Wisconsin, Sargento is proud to be the company that successfully introduced America to pre-packaged sliced and shredded natural cheeses and cheese blends. Today, Sargento Foods is still based in Wisconsin, where they manufacture and market amazing shredded, sliced and snack natural cheese products, as well as ingredients. Company leadership lives to serve local communities and employees, whom they refer to as the Sargento Family. www.sargento.com
About Hunger Task Force:
Hunger Task Force is Milwaukee's Free & Local food bank and Wisconsin's anti-hunger leader. The organization provides healthy and nutritious food to hungry children, families and seniors in the community absolutely free of charge. Hunger Task Force was founded in 1974 by a local advocacy group who then formed Milwaukee's first food bank. Today, Hunger Task Force is 100% supported by the community and provides a safety net of emergency food with dignity to a network of 75 food pantries, soup kitchens and homeless shelters. Through legislative analysis, education and community organizing, Hunger Task Force continues to advocate for anti-hunger policy at the local, state and federal level. For more information, visit www.HungerTaskForce.org.