Touchdowns for Hunger™ supports Hunger Task Force and Paul's Pantry
Packers, Sargento Foods Inc., Donald Driver Contribute $104,000 to Fight Hunger During 20TH Season of Touchdowns for Hunger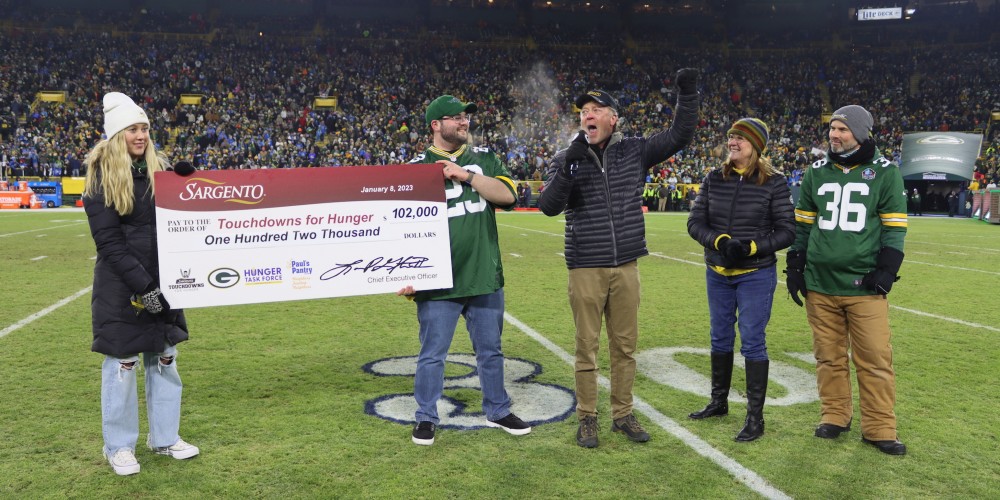 The Green Bay Packers in partnership with Sargento Foods celebrated the 20th successful season of 'Touchdowns for Hunger' this year. For every touchdown scored by the Packers, Sargento donates $2,000 to help fight hunger in Wisconsin. Since partnering 20 years ago, Sargento – the Official Cheese of the Green Bay Packers – has contributed more than $1.7 million to fight hunger in Wisconsin. During the 2022 season, the Packers scored 42 touchdowns.
To celebrate the 20th anniversary of 'Touchdowns for Hunger,' Packers alumnus and the team's all-time leading receiver Donald Driver joined Sargento to raise awareness of hunger in Wisconsin. Driver also contributed to the cause, donating an additional $20,000 for a total 'Touchdowns for Hunger' donation of $104,000 for this season.
"We're proud to have reached this milestone with the Green Bay Packers who share our commitment to our community," said Louie Gentine, 3rd generation CEO of Sargento Foods. "For 20 years, Touchdowns for Hunger has been one way we're doing our part to address hunger and food insecurity in Wisconsin, while making fans aware of the need."
'Touchdowns for Hunger' benefits Hunger Task Force in Milwaukee and Paul's Pantry in Green Bay who are Wisconsin's anti-hunger leaders.
"Celebrating our 20th season of Touchdowns for Hunger has been filled with excitement," said Sherrie Tussler, executive director of Hunger Task Force. "Listening to Louie talk about the importance of partnership, meeting his family, standing next to Bob from Paul's Pantry and his family and add in the surprise of having Packers Hall of Famer Donald Driver as part of this celebration, reminded me of how truly fortunate Hunger Task Force is to partner with the Sargento employee family and the Packers and we're looking forward to next year."
"We are so grateful to Sargento and the Packers for the Touchdowns for Hunger Program," said Craig Robbins, executive director of Paul's Pantry. "The incredible amount of support over the years has helped Paul's Pantry purchase tons of fresh nutritious food, and has helped thousands of people in our community who are unable to purchase adequate food for their families. Touchdowns for Hunger is so fun for Paul's Pantry's volunteers; it adds even more excitement to the Packers season, because each and every week everyone is keeping track of touchdowns scored!"
Throughout the season, Driver helped Sargento celebrate the 20th anniversary. Driver joined Gentine in presenting funds from the program to both Hunger Task Force and Paul's Pantry in December.
About Sargento Foods Inc.: With over 2,300 employees and net sales of $1.5 billion, Sargento Foods is a family-owned company that has been a leader in cheese for more than 65 years. Founded in 1953 in Plymouth, Wisconsin, Sargento is proud to be the company that successfully introduced America to pre-packaged sliced and shredded natural cheeses and cheese blends. Today, Sargento Foods is still based in Wisconsin, where they manufacture and market amazing shredded, sliced and snack natural cheese products, as well as ingredients. Company leadership lives to serve local communities and employees, whom they refer to as the Sargento Family. www.sargento.com
About Hunger Task Force: Hunger Task Force is Milwaukee's Free & Local food bank and Wisconsin's leading anti-hunger organization. The organization's mission is to feed people in need today and end future hunger. Hunger Task Force operates a food bank that provides healthy food absolutely free of charge across Wisconsin. As advocates, Hunger Task Force works to end hunger through strong public policy work, legislative analysis, education and community organizing. For more information, visit HungerTaskForce.org.Task Force continues to advocate for anti-hunger policy at the local, state and federal level. For more information, visit HungerTaskForce.org.
About Paul's Pantry Inc.: Paul's Pantry was started as a result of a need to care for hungry people in the community who are unable to purchase enough food for their family as a result of their meager or no incomes. Paul's Pantry though, is more than just an emergency food pantry. Its goal is to provide a family with enough food every week, for as long as needed, so that they may use their food dollars for shelter, utilities and other necessities, and avoid becoming homeless. Paul's Pantry, founded in 1984, has grown to be Wisconsin's largest food pantry, distributing 14,000 lbs. of groceries each day, five days a week. Visit us at Paul's Pantry.org