A new record with three regular season games left to go, marks the largest 'Touchdowns for Hunger' contribution ever since program began in 2002
Packers, Sargento Foods Inc. Surpasses $100,000 in Donations for Hunger Relief During 2020 Season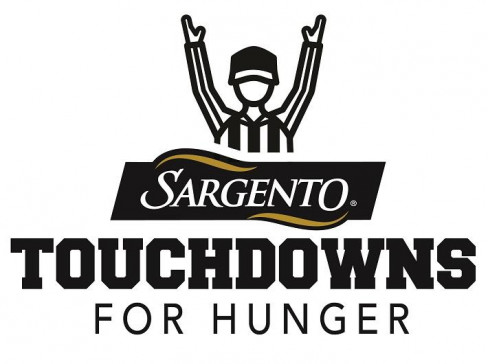 Dec 14, 2020 - After the Green Bay Packers scored four touchdowns Sunday against the Detroit Lions, the Packers and Sargento Foods Inc.'s annual Touchdowns for Hunger™ program has surpassed the $100,000 milestone for the first time in one season during its 18-year history. For every touchdown scored in the regular season, Sargento donates $2,000 toward hunger relief in Wisconsin – a $500 increase per touchdown over 2019. The Packers have scored 52 touchdowns so far. As the Official Cheese of the Green Bay Packers, the Sargento Touchdowns for Hunger donation is shared by Paul's Pantry in Green Bay and Hunger Task Force in Milwaukee.
The contribution could continue to grow with three more regular season games left to go. Sargento will continue donating $2,000 for each touchdown during any possible playoff games.
The record-breaking donation is a result of the Packers' stellar offense along with the increased donation per touchdown from Sargento. This, to address the growing need for hunger relief in Wisconsin during the COVID-19 pandemic.
"We are excited to reach this major milestone for Touchdowns for Hunger thanks to the Packers' incredible offense," said Louie Gentine, CEO of Sargento Foods. "Our charity partnership with the Packers started in 2002 and has raised more than $1.4 million to fight hunger in Wisconsin. We're honored to serve our community by partnering with organizations like Milwaukee's Hunger Task Force and Paul's Pantry in Green Bay."
"The Green Bay community has been hit hard by the pandemic," said Craig Robbins, executive director of Paul's Pantry. "In a part of Wisconsin where hunger can be easy to hide, we continue to see the daily impact of COVID-19 on the people in need we serve. This tremendous support from Sargento – along with the dynamic and exciting Packers offense – will help us as we continue to serve those in need in our community."
"After 18 years of partnering with Sargento for Touchdowns for Hunger, this record-breaking season comes at a time when Hunger Task Force is serving more families than ever before," said Sherrie Tussler, executive director of Hunger Task Force. "We value our partnership with Sargento in the fight against hunger now more than ever."
Packers running back Aaron Jones has also joined the program this year for the second straight year to raise awareness about the increased need to help families facing hunger. In 2019, Jones set a new franchise record for touchdowns in a single season, with 19 touchdowns in the regular season and four touchdowns in the postseason. So far during the 2020 season, he has scored seven touchdowns.
About Sargento Foods Inc.:
Sargento Foods is a family-owned company with a passion for cheese. Founded in 1953 in Plymouth, Wis., Sargento is a leading manufacturer, packager and marketer of natural cheese. It is proud to be the company that successfully introduced America to pre-packaged sliced and shredded natural cheeses and cheese blends. With net sales of more than $1.4 billion, the company continues to thrive by putting innovation at its core and hiring good people and treating them like family. Today, 2,000 employees are part of the "Sargento Family." In addition, Sargento considers all individuals who contribute to the success of Sargento to be stakeholders, including employees, customers, vendors and neighbors in four Wisconsin communities: Plymouth, Kiel, Hilbert and Elkhart Lake. www.sargento.com