Company to Thank 28 Homeowners With Additional Mortgage, Tax Bill Donation
Sargento Celebrates 30 Years with Milwaukee Habitat for Humanity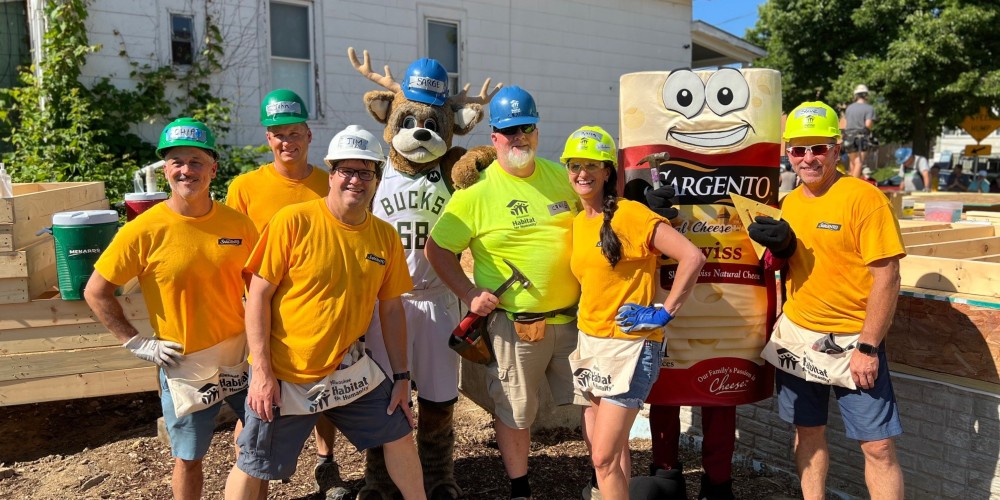 PLYMOUTH, Wis. – July 18, 2022 – In 1992, Sargento Foods became the first corporate sponsor of Milwaukee Habitat for Humanity and has become the non-profit's most prolific builder of affordable housing in Milwaukee's Washington Park and Midtown neighborhoods. Many of the Milwaukee Habitat for Humanity homeowners who live in the 33 Sargento-sponsored homes are long-term homeowners and have made a difference in their families' lives and their community. Many have paid their mortgages in full and have become anchors on their blocks.
Help for Homeowners
As a show of appreciation for their commitment to the Habitat for Humanity program, Sargento will make a special donation to Milwaukee Habitat that the organization will use to pay one year's mortgage of the Sargento-Habitat homeowners who still have a mortgage or the 2022 tax bill for the Sargento-Habitat homeowners who have paid off their mortgages.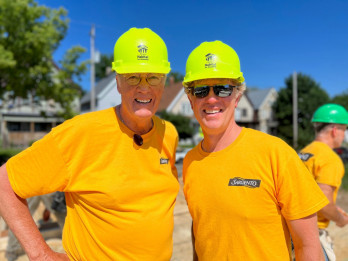 "The choice these homeowners have made to be part of the Habitat for Humanity program is making a real difference by building a solid foundation for their families and our community," said Louie Gentine, 3rd Generation CEO of Sargento Foods. "This is our way of thanking them for putting in hours upon hours of sweat equity, learning about homeownership and for becoming a light for others to follow." In all, 28 Sargento-Habitat homeowners will either have their mortgages or tax bill paid this year at a time when inflation is impacting many families.
"For the last 30 years, Sargento has demonstrated their steadfast commitment to helping local families realize the dream of homeownership," says Brian Sonderman, Executive Director of Milwaukee Habitat for Humanity. "Sargento employees have volunteered alongside many of these families as they built their homes, so to surprise them with this gift is really special."
Build Week
As Sargento makes this announcement, the Sargento Family of volunteers alongside volunteers from the Milwaukee Bucks will build the 34th and 35th homes for deserving families, from July 18-22, 2022. One home will be the 'Tipoff for Homes' house. As the Official Cheese of the Milwaukee Bucks, Sargento donates $500 to Milwaukee Habitat for every opening tip the Bucks win. Since Tipoff for Homes began in 2019, Sargento has donated an additional $120,000 to Milwaukee Habitat thanks to the Bucks offense. Join the celebration as Sargento and Milwaukee Habitat for Humanity mark this major milestone:
• When: Monday, July 18, 2022
• Time: 9:30 a.m.
• Where: 3340 and 3344 N. Vel R. Phillips Ave. Milwaukee 53212
• Who: Sargento CEO Louie Gentine, Bucks President Peter Feigin, Milwaukee Habitat for Humanity Executive Director Brian Sonderman, Sargento-Habitat Homeowner Rishonda Smith
Sargento believes that every family deserves a place to call home. We know how homeownership can sustain families for generations with security and prosperity. We also believe in giving back because our founder, Leonard A. Gentine, knew that in order for Sargento to succeed, our community needed to succeed as well.
About Sargento Foods Inc.
With over 2,000 employees and net sales of $1.5 billion, Sargento Foods is a family-owned company that has been a leader in cheese for more than 65 years. Founded in 1953 in Plymouth, Wisconsin, Sargento is proud to be the company that successfully introduced America to pre-packaged sliced and shredded natural cheeses and cheese blends. Today, Sargento Foods is still based in Wisconsin, where it manufactures and markets amazing shredded, sliced, and snack natural cheese products, as well as ingredients. Company leadership lives to serve local communities and employees, whom they refer to as the Sargento Family. www.sargentofoods.com
About Milwaukee Habitat for Humanity
People in our community and all over the world partner with Habitat for Humanity to build or improve a place they can call home. Habitat homeowners help build their own homes alongside volunteers and pay an affordable mortgage. With our help, Habitat homeowners achieve the strength, stability, and independence they need to build a better life for themselves and their families. Over the past 35 years, Milwaukee Habitat has served more than 1450 families in the Greater Milwaukee community through new construction, rehab and repair programs and provided housing solutions for more than 2,600 families in developing countries. www.milwaukeehabitat.org