This Wisconsin cheese company paid the mortgages of 28 Milwaukee Habitat homeowners for a year. Here's the impact it had.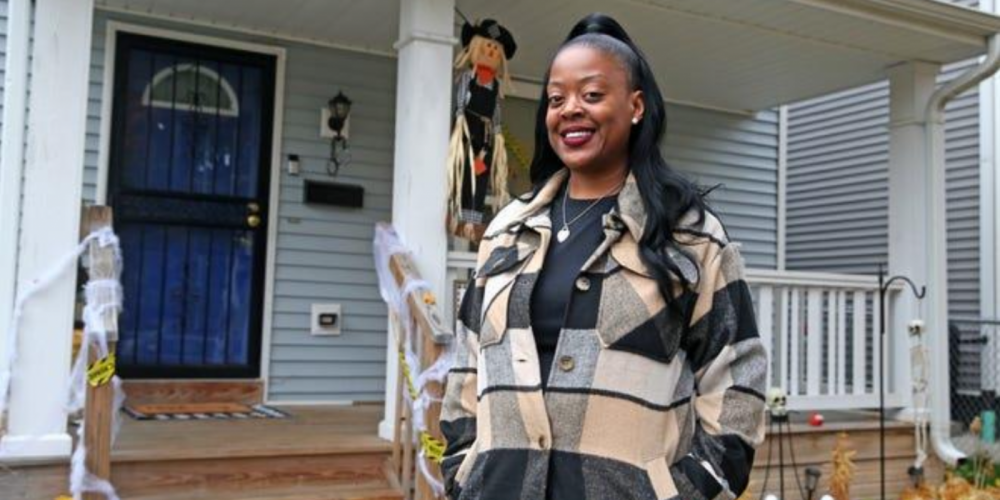 Rishonda Smith said words can't describe how she felt when she was told Sargento Foods Inc. would pay her mortgage for a year.
"It definitely came in my time of need, like it was sent from God when I needed it the most," said Smith, who was challenged financially after surgery put her out of work.
Smith, a Milwaukee Habitat for Humanity homeowner for about six years, was one of 28 homeowners to learn that through a donation from Sargento, their mortgages will be paid for a year. Homeowners who don't have a mortgage will have their 2022 tax bill paid. Plymouth- based Sargento made the contributions to mark the cheesemaker's 30th year of supporting Habitat.
The Sargento gifts are a huge relief for Milwaukee Habitat homeowners and families who may be struggling as a result of rising inflation and costs, said Brian Sonderman, executive director of Milwaukee Habitat for Humanity.
"In a sense that 'I don't have that stress ... I don't have that burden,'" he said. "And no one expected it. No one. It was a complete surprise." People who earn low to moderate incomes, particularly those who earn between 30% to 60% of the average income in the Milwaukee area because they're unable to secure mortgages from banks and credit unions, can become first-time homebuyers through Milwaukee Habitat's homeownership program.
Sargento CEO Louie Gentine said the company wanted to do something special for Habitat homeowners, who show great pride in their homes and play critical roles in rebuilding their communities.
Though the company has its headquarters in Plymouth, the Gentine family behind Sargento has ties to Milwaukee. Gentine's grandparents lived in the city until the mid-1930s, and his grandfather's first venture into the cheese business was creating cheese boxes for friends and business associates in Milwaukee.
Gentine said the basic need for housing was at the top of the list when the company was considering how to help the Milwaukee community. The company became Habitat's first corporate sponsor in 1992.
"We believe that if people have a place that they can call home, where they can raise their family, and maybe bring not only their family together but communities together, that together we have the opportunity to make a positive impact in the community," Gentine said.
35 homes in north and west sides of Milwaukee impacted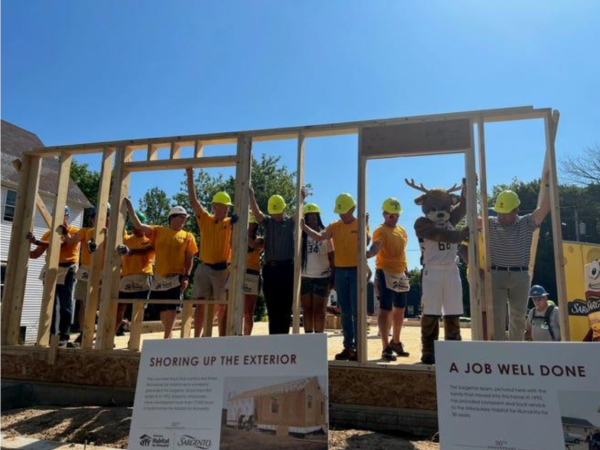 By the end of the year, 35 Habitat homes in the north and west neighborhoods of Milwaukee will be sponsored by Sargento. One of the recently sponsored homes will be the "Tipoff for Homes" house, named for a Sargento and Milwaukee Bucks partnership that donates $500 to Milwaukee Habitat for each opening tip the Bucks win.
Sargento has donated $120,000 through Tipoff for Homes since 2019.
The company has also supported Milwaukee Habitat through bringing employees to volunteer on home builds, into which future homeowners put hundreds of "sweat equity hours," Sonderman said.
More than 20 Sargento volunteers came to help with Smith's home build, Smith said, which was helpful because not a lot of her family and friends were able to volunteer.
Including employees in the home builds not only involves them in Sargento's community work, but it also creates a greater appreciation of some of the needs in the community, Gentine said.
Addresses needs for affordable housing
Like many cities in the state, Milwaukee is experiencing a shortage of affordable housing as a result of rising rent prices and no wage increases, causing larger portions of incomes to go toward housing.
According to Milwaukee Habitat, one in three renters in Milwaukee spend more than half of their income on housing.
Habitat homeowners don't spend more than 30% of their income on housing, including mortgages, taxes and insurance, Sonderman said, adding that for many homeowners, their homes become their greatest asset, which they can pass on to future generations.
Smith said building her own home and becoming a homeowner was a "blessing."
"Because you run, of course, (into) a lot of slumlords, like landlords that don't want to do anything, fix anything," she said. "So, to actually be in my own home, brand new, it was a big deal for me and my family."
Deloitte recognizes Sargento for community work
For its work with Habitat and other partners to address hunger relief and education, Sargento received the Distinguished Performer Award for Community in the 2022 Wisconsin 75 program, a list of the 75 largest private companies in the state compiled by Deloitte.
One in 14, or 415,400, people in Wisconsin, face hunger, according to Feeding America. Through donating to the Hunger Task Force and partnering with the Green Bay Packers and the Milwaukee Brewers, Gentine said Sargento can build awareness about hunger and help provide food security.
Last year, Sargento donated nearly $170,000 toward hunger relief through its partnerships with the Brewers and the Packers, according to the company's 2021 impact report. Sargento also donated over 572,100 pounds of cheese to community food banks and meal programs.
Sargento also works with local technical colleges and high schools in the Manitowoc and Cleveland areas to help expose students to the STEM side of manufacturing and to what potential manufacturing careers could be, Gentine said.
"It's not only important for Sargento, but when you look at manufacturing in the state of Wisconsin, I think we all need to do a better job of making sure students and families know what different career paths could lie ahead for them if they choose manufacturing," he said.
'A culture of service'
The Gentine family, which is in its third generation of leadership at Sargento, has built a "culture of service," Sonderman said.
"I think it's hard to replicate in the traditional sort of corporate culture that exists, and I think it's true of Sargento that there is a sense of family and that translates into even their support of the organizations, the nonprofits and others that they support in the community," he said.
Sargento's reinvestment into the community comes from his grandfather's philosophy to make decisions with all stakeholders in mind, Gentine said.
"Our employees, the Sargento family, are a part of that. Our suppliers are a part of that. Our customers are certainly a part of that. And our communities are a part of that," Gentine said.
"And we believe that as we're successful, so should those four key stakeholders also be successful. We all are dependent on each other in order to have that success.
"So, when I look at what the community has done to provide opportunities for Sargento to not only grow our operations in a number of different communities, but also to be a place where our employees, the Sargento Family, can call their home are really important to me."
Reporter: Alex Garner, Sheboygan Press
Photo credit: Angela Peterson, Milwaukee Journal-Sentinel